Set in the restful piece of land in Narsingdi district, the vacation house and the communal mosque within the premises are composed of muted and bare elements which create an overall impression that is minimal and timeless, exuding an assured and understated elegance.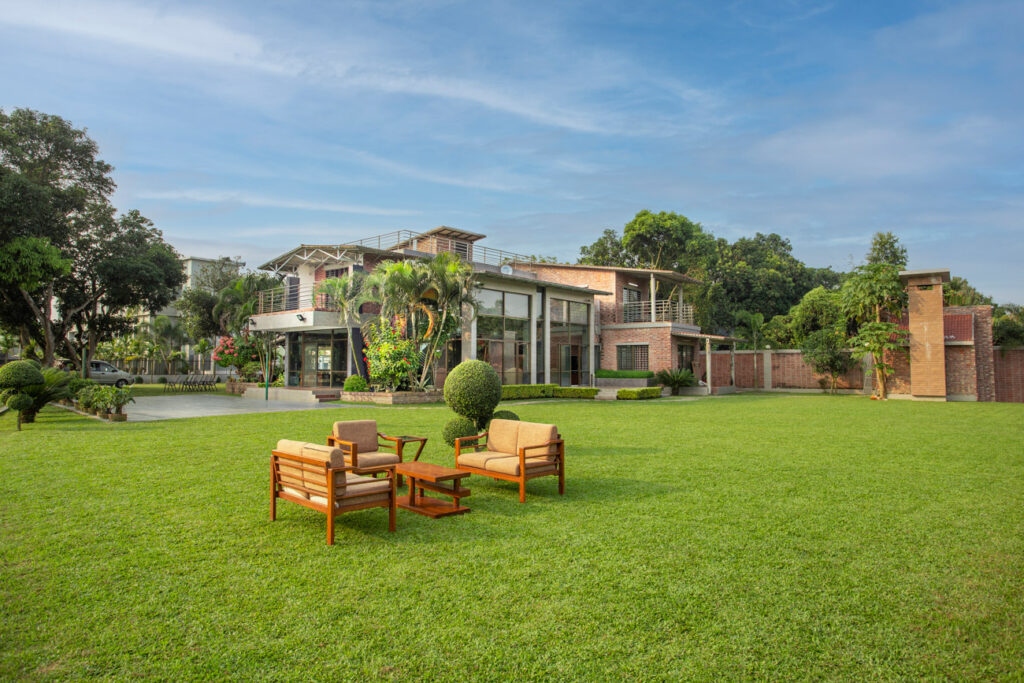 The project is built on ancestral land in Katabaria village of Narsingdi district. Learning from Enamul Haque Khan, owner of the house, his ancestors gradually settled here nearly 180 years back and since then the Khan family has been living in this countryside. "My father late Afazuddin Khan was a socialist and a political party member. Throughout his life, he was committed to enhancing the lives of the countryside people and the community", expresses Enamul Haque. "I am just following my father's footsteps, his principles, and working on to heighten the establishments of the community and the village. Our vacation house and the mosque welcome family members, visitors and community people and share laughter, hardship, grief, cultures and rituals at times," he continues.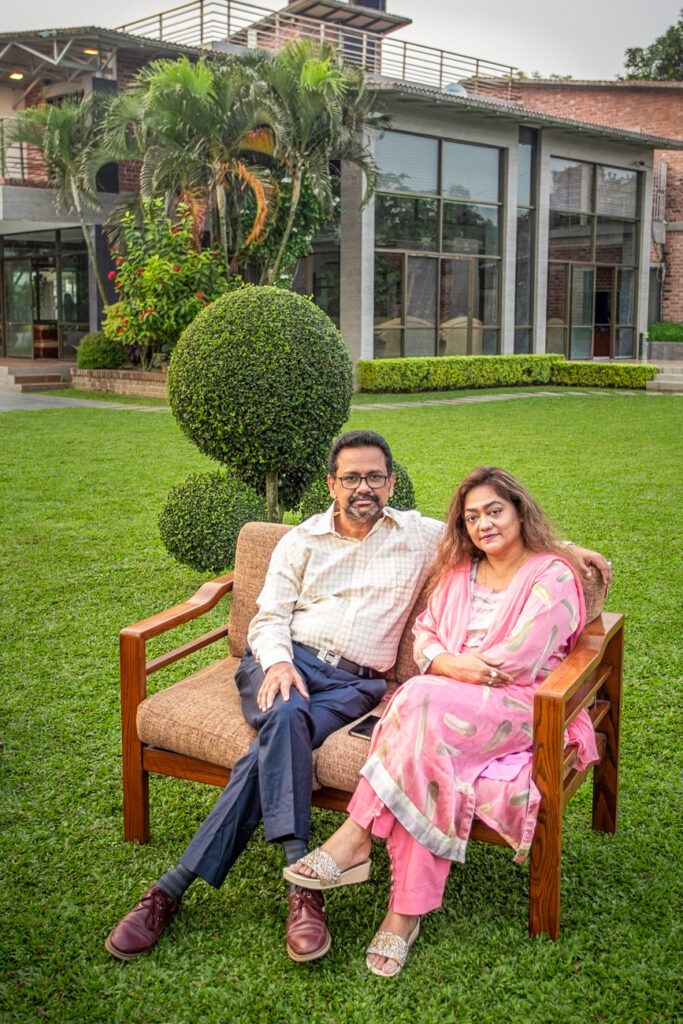 The house layout is occupied by a formal living connected to a shaded verandah, overlooking the landscaped gardens, enlarged guest and master bedrooms, and dining space connected to the family kitchen and service areas. All the functional layers are oriented to maximize views of the surrounding countryside and beyond. As cross ventilation and natural light are important to the domestic ambience, a key to the design is the integration of natural light and ventilation. The tropical climate of the region allows houses to be very open, connected with opening spaces. Therefore, this house bears many windows spanning entire walls, allowing the breeze to flow through rooms. While plants feature in many of the living spaces, creating a natural affinity between rooms and patios.
The beautifully landscaped front yard of the house provides a serene atmosphere and is filled full of aromas of the lovely tropical flowers that cluster in organic-style flower beds around the yard.
Sliding doors can be opened to external terraces and allow smells from the vegetation to waft through the house. A ghat-like place resides beside the yard is undoubtedly one of the favoured spots among the family members where they cherish lovely evening time over a cup of tea, whenever they visit the vacation house.
One of the other beautiful creations besides the house is the communal mosque. The mosque was initially built around 1970 by the owner's late father. "Previously it was just a mud structure with thatched shed. Later, my uncle Lieutenant General Nuruddin Khan initiated it to make bigger and better for the community people. Asif Bhuiya, deputy chief architect of Sthapotto Odhidoptor (Department of Architecture), designed it gradually, giving a modest contemporary-style look," says Enamul Haque.
The establishments provide a tranquil environment that liberates both the body and mind and a place to let emotions take root. The overall space is characterized by concise and simplistic design language.